Perforated Mesh
Perforated mesh has good strength-to-weight ratio, wide range of open area percentages, accurate hole size, available in corrosion resistant materials, available in lightweight material and suitable for decorative applications.
Materials Available: 
Stainless Steel 
Plain Steel 
Galvanized Steel
Aluminum
Brass/Copper/Phosphor Bronze
Material of stainless steel: Stainless steel like 316, 304, 202, 201 and so on
The size of holes: Φ0.35 mm – Φ10 mm
Characteristics of perforated sheet:
1. Can be readily formed
2. Easy installation
3. Can be painted or polished and anodizing.
4. The thickness of materials is wide range from 0.3mm-8mm.
5. Largest selection of hole size patterns and configurations
Feature: The product is suitable for many place like Food Machine,  Vent-pipe, Silencing equipment, Oven, Shelf, Billboard and so on. Sturdy and durable, elegant appearance, no burr on the back.
The standard specification for your reference 
Hole Diameter

Staggered Centers

Sheet Thickness

Open Area

0.045"

1.14mm

0.066

0.033-0.039"

0.84-0.99mm

37.00%

1/16"

1.59mm

3/32"

0.027-0.033"

0.68-0.84mm

41.00%

1/16"

1.59mm

1/8"

0.027-0.066"

0.68-1.68mm

23.00%

5/64"

1.98mm

1/8"

0.027-0.053"

0.68-1.35mm

35.00%

0.081"

2.06mm

1/8"

0.053-0.066"

1.35-1.68mm

38.00%

3/32"

2.38mm

5/32"

0.053-0.066"

1.35-1.68mm

33.00%

1/8"

3.17mm

3/16"

0.027-0.127"

0.68-3.23mm

40.00%

5/32"

3.97mm

3/16"

0.027-0.066"

0.68-1.68mm

63.00%

3/16"

4.76mm

¼"

0.027-0.127"

0.68-3.23mm

50.00%

1/4"

6.35mm

3/8"

0.033-0.111", 0.25"

0.84-2.82mm, 6.35mm

40.00%

3/8"

9.52mm

½"

0.053-0.082", 3/16"

1.35-2.08mm, 4.76mm

51.00%

3/8"

9.52mm

9/16"

0.059", 0.119"

1.50mm, 3.02mm

40.00%

1/2"

12.70mm

11/16"

0.033-0.127", 3/16"

0.84-3.23mm, 4.76mm

48.00%

1/4" Hex

6.35mm Hex

0.285

0.027-0.033

0.68-0.84mm

76.00%

3/8" Sq.

9.52mm Sq.

Cane
0.053-0.066"

1.35-1.68mm

51.00%
Drawing of detail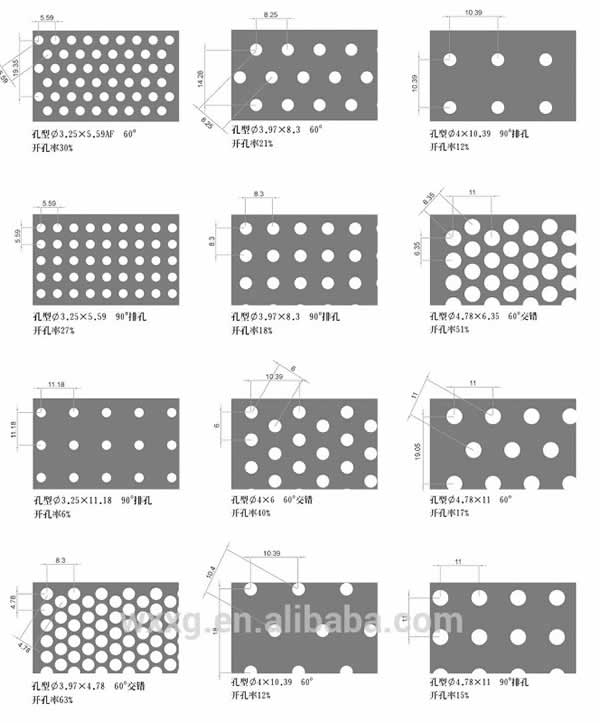 How to order - specification:
Material – steel, stainless steel, aluminium and others;
Thickness of material;
Hole Description – shape & size;
Type of Pitch – staggered or square;
Margins - dimensions of blank margins if required;
Quantity;
Used;
If special sized sheets or shapes are required, detailed drawings must be Supplied;